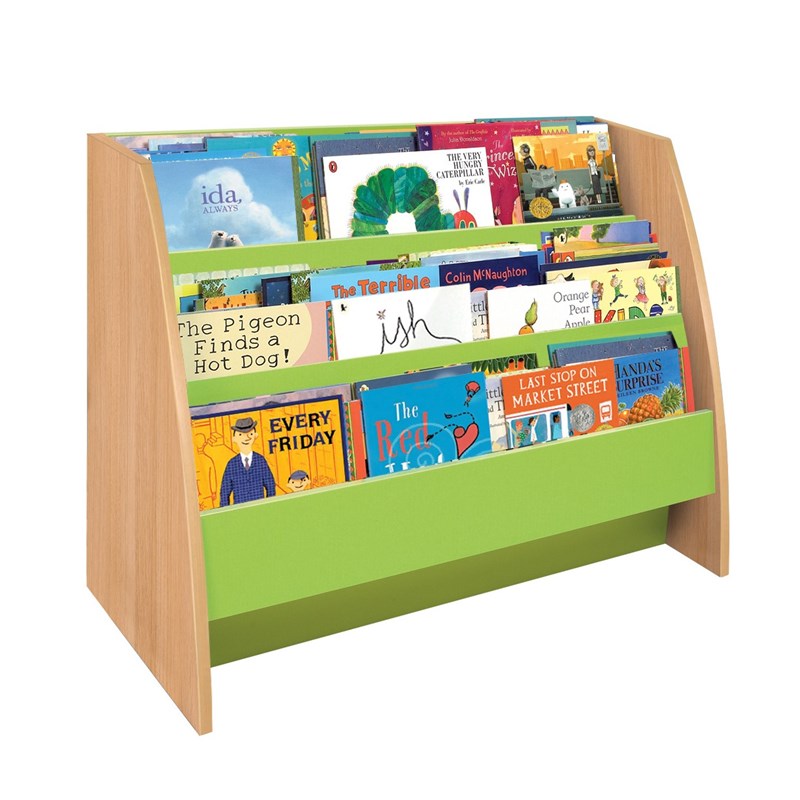 Picturebook Wall Unit
The front covers of picture books for young children just get better and better – there is such a rich variety of artwork styles and colors available. What a shame, then, that so many units for this age group only show a top slice of the front cover. The joy of our units is that they showcase the book covers so beautifully.
There's a serious mission behind this too. Children who choose their own books develop reading skills faster. Picture books with thin spines in cramped spaces on the shelves do not encourage choosing. Nor do overpacked boxes where only the top of the book is visible and little fingers get squeezed trying to lever books out. Maybe it's time to give your picture books the treatment they deserve with one of our specially designed units. You will be rewarded with increased circ figures and, more importantly, you may be helping to set a child's future success on the road to reading.
Designed to be fixed against a wall for safety
Deep pockets hold a large capacity
All books displayed face-out so the covers can be seen
Made in the USA!
25-Year warranty
27 3/4"H x 37"W x 18"D
Three shelves with a front lip on each
Several great colors to choose from
Custom crafted – made to order
Assembled
Ships from manufacturer by truck
Weight: 50 lbs
Freight charges are FOB shipping point, prepaid and added to your invoice
Delivered either to the end of the truck or onto your loading dock. If you require delivery beyond these points, an extra charge will apply
Call us for exact shipping quote
More From Children's Library Display Furniture